Caregiver training business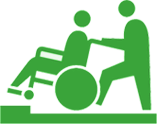 In Myanmar, the number of medical professionals including doctors and nurses is remarkably low, and the training of medical assistance personnel called caregiver will become the key to the future of medical development. We aim to create a large number of high global standard quality talents to Myanmar by providing educational programs with applying Japan KAIGO Know-How.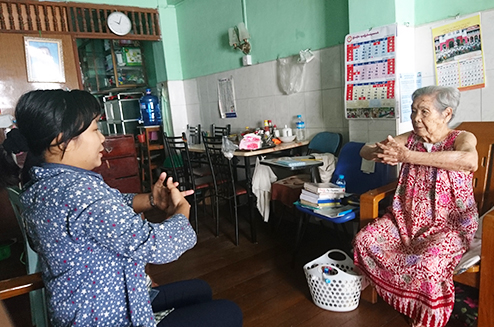 Why do we train medical personnel? Two social issues in Myanmar
Great shortage in medical personnel
In Myanmar's medical environment, shortage of medical personnel is becoming a big issue. Especially the number of nurses which is fewer than doctors makes human medical infrastructure improvement by training nurses become a big development task. The reason is because of the lacking of public educational institutions. There are only three nursing colleges in the countries whose degrees are officially accepted. (University of Nursing, Yangon / Mandalay Institute of Nursing/ Defence services institute of nursing and paramedical science)
Lack of Know-How in Medical assistant personnel (caregiver) training
In Myanmar, caregivers often carry out medical assistance in place of nurses, but there is no curriculum standard for private educational institutions that educate those personnel. The nursing assistants who graduated from a private educational institution has a low salary level, and there are many cases of changing jobs to other industries instead of medical care or going overseas through an opaque institution. By utilizing the internship program in Japan, we can solve these social problems in Myanmar. We aim to greatly improve the quality of medical care and welfare in Myanmar
Achieve advanced human resources by taking advantage of the resource of each country
Communicate advanced KAIGO technology which takes advantage ofthe over-10-year Know-How.
We have cultivated more than 15,000 KAIGO talents in Japan, and we aim to develop human resources that have global standard. If you can acquire Japanese advanced KAIGO technology, you will be able to work in all countries around the world. Education of KAIGO technology will be conducted in Japan after finishing Japanese Language education. We are aiming for the world's highest level of KAIGO education by harmonizing the "virtuous culture" rooted in Myanmar and the "hospitality heart" of Japan.
Japanese language education program that aims for N3 level in 6 months
In collaboration with Yangon Japanese Language School "Better Life", we aim to reach N3 level from N5 level in 6 months. In our own developed curriculum, we learn not only daily expressions but also about frequently used Japanese phrase in nursing care practice, so that interns can come to Japan and get into work smoothly. Also, native Japanese speakers will support your study. We will carefully answer what you care about and what you do not understand when you travel to Japan
Business manners and communication as the foundation of work
Myanmar talents who are cultivated by our company aim to achieve skills that can be employed not only in their countries but also in Japan, Thailand and Singapore. For that reason, we aim not only nursing skills and language, but also to educate about business manners and communication that form the basis of work, and thereby aim to produce global standard talents that can work internationally.
Back to business line